"Your outdoor oasis isn't complete until you choose the perfect garden statues. These can be various sizes and made of different materials. A few guidelines can help you find statues that are unique and reflect your personal style."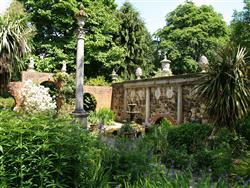 Garden statues, sculptures and ornaments fit well into most gardens. These are often the things which put the finishing touches to a garden. They can be set simply amongst shrubbery, partly obscured from view, or made a more obvious feature and placed on columns, piers and pedestals at various points in the garden such as in grottos, alcoves or at the end of a path or the centre of a pond.
Using Statuary
Statuary can be used subtly or in a formal setting. To make these features more eye-catching consider the following:
Surrounding with plants will enhance the feature and not compete. This may mean using plain evergreens or a single flower colour around the statue.
Limit the number of ornaments in an area. If you have several pieces that you want to use, make sure they are visually separate.
Make sure the ornament enhances and blends with the garden.
Formal pieces are best in a formal setting.
Cute pieces such as animals are better in an informal or country style garden.
Read more: https://www.acsgarden.com/articles/landscaping/choosing-and-using-statues-and-sculptures-for-your-garden.aspx